We all understand the importance of keeping a clean home for our families. But it's not easy to keep up with all the different types of cleaning products needed to tackle every surface in your house! To make things easier on you (and the environment!), here are 25+ green cleaning product recommendations that will help you stay ahead of household messes and dirt while also being safe for your family and planet.
More people now understand that going green with their choice of cleaning products is better for the home and environment without compromising on cleaning efficiency. While it's possible to whip up cleaning products right at home, finding chemical-free cleaning offers several options for commercially manufactured eco-friendly cleaning materials that work very well.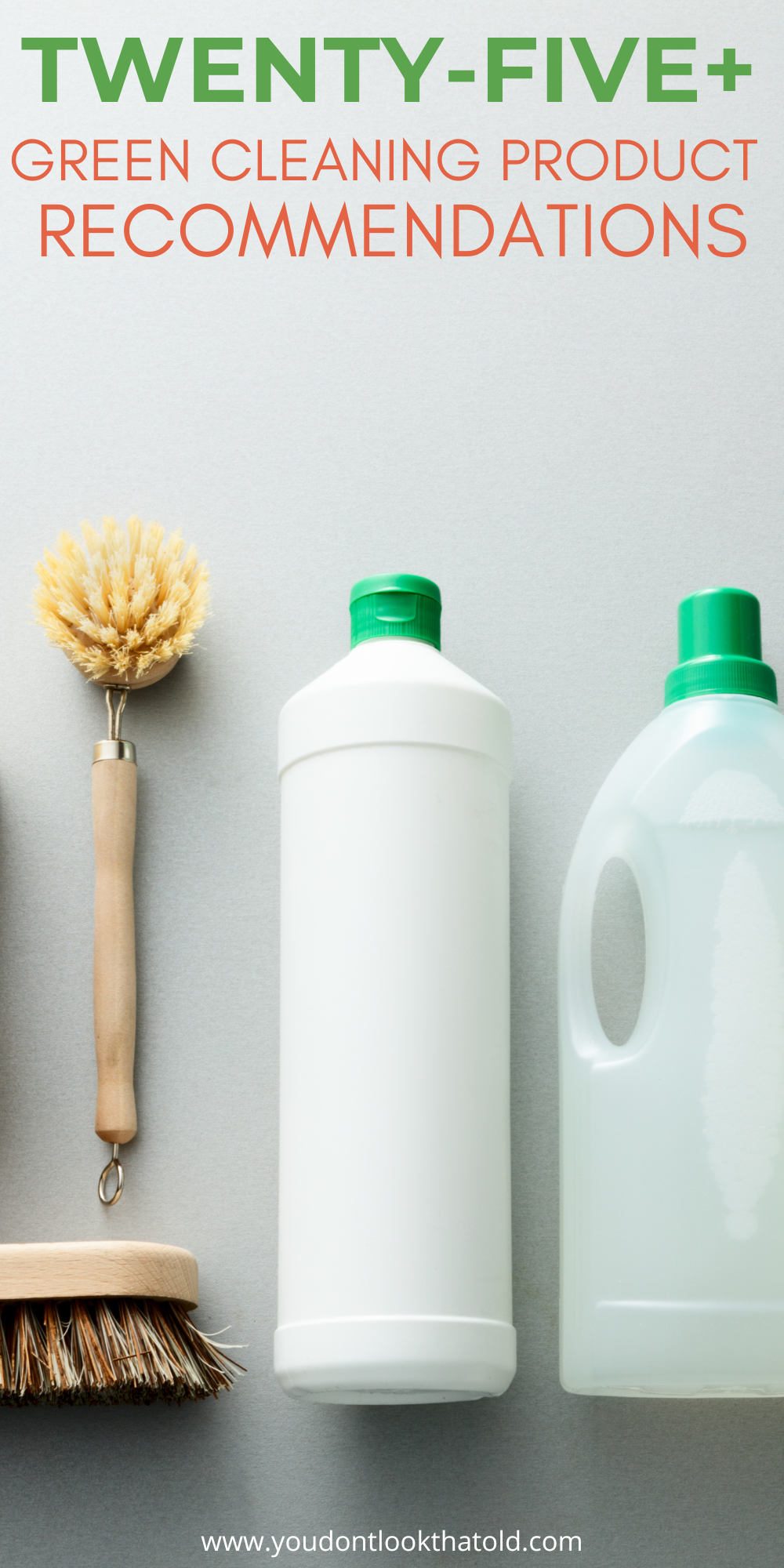 What is a Volatile Organic Compound [VOC]?
Volatile organic compounds, more commonly known as VOCs, are chemicals released into the air as gases. They are found in various household products, including paint, cleaning supplies, and air fresheners.
Some VOCs are relatively harmless, while others can have serious health effects. Short-term exposure to high VOC levels can cause headaches, dizziness, and nausea. Long-term exposure has been linked to cancer and liver damage.
As a result, it is important to choose green cleaning products that do not contain VOCs. These products may cost a bit more upfront, but they will help to keep your family safe and healthy in the long run.
Which Products Contain VOCs?
VOCs are found in many everyday household products, such as cleaning supplies, air fresheners, and scented candles. They can also be released into the air from new carpeting or paint.
Fortunately, green cleaning products are now available that do not contain VOCs. These products are just as effective as traditional cleaners but much safer for people and the environment.
How to Choose Green Products
Finding green products to suit all your home needs doesn't need to be overwhelming. Research green product options accessible to you, such as green-certified building materials, appliances, or furniture. To ensure your green product selection meets the needed standards, such as energy efficiency, check the label and labeling of certifications.
The green label should tell what the product is made of, how it is produced, and if or how it has been recycled. If a green-certified product does not meet your expectations, consider buying used products and repair when possible for an even greener home.
Basic Tips
Do the research. Not all green cleaning products are created and marketed equally and honestly.
Make sure products are plant-based, non-toxic, and unscented.
Avoid bleach, ammonia, surfactants, and fragrances.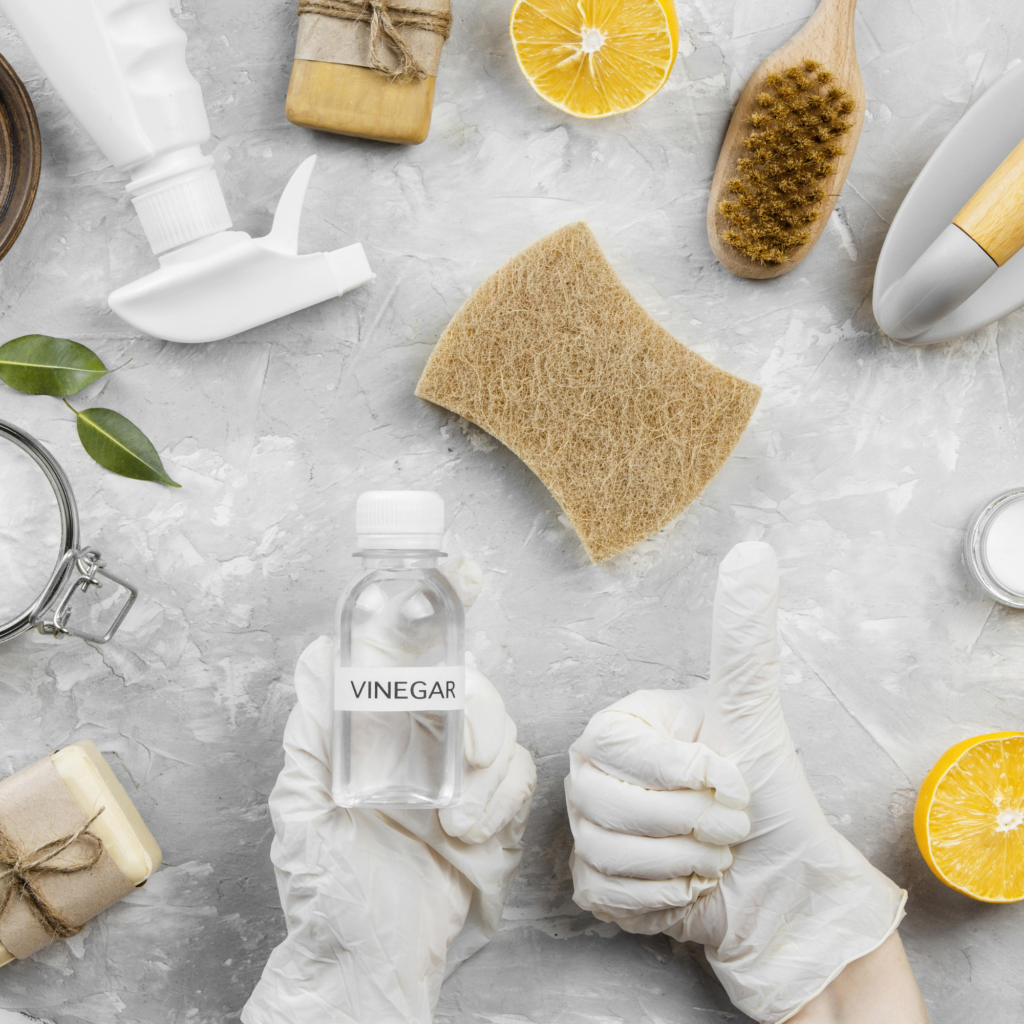 25+ Green Cleaning Product Recommendations
#1 – Method All-Purpose Cleaner
Are you looking for a green cleaning solution that can tackle any job? Look no further than Method All-Purpose Cleaner. This powerful cleaner is made from naturally derived ingredients, so it's gentle on surfaces but tough on dirt and grime.
It's also hypoallergenic and biodegradable, so you can use it with peace of mind knowing that you're not harming the environment.
#2 – Mrs. Meyer's Liquid Dish Soap
Mrs. Meyer's Liquid Dish Soap is one of the market's most popular green cleaning products. Made with natural ingredients, it is gentle on both hands and dishes.
Mrs. Meyer's dish soap is also very effective, easily cutting through grease and grime. In addition, it is very affordable, making it an excellent choice for budget-conscious consumers.
#3 – Mrs. Meyer's Basil All-Purpose Cleaner
Looking for a green alternative to harsh chemicals? Mrs. Meyer's basil all-purpose cleaner is a safe and effective way to clean your home without harming the environment. Made from natural ingredients like lemon grass and basil, this cleaner cuts through dirt and grime without leaving behind harmful residues.
#4 – Seventh Generation Glass & Surface Cleaner
Seventh Generation Glass & Surface Cleaner is an effective green product designed to clean glass and surfaces while taking care of our environment. It uses plant-based cleaning ingredients that are never tested on animals and don't contain harsh chemicals or synthetic fragrances.
This cleaner comes in a concentrated bottle that can make up to 9 spray bottles of the ready-to-use formula, which makes for economical and eco-friendly use. It quickly cuts through grease, dirt, smudges, and other messes without leaving streaks behind. Not only is this green product extremely powerful, but it also contains no VOCs (Volatile Organic Compounds) that can be harmful to your health or the environment.
#5 – Method Antibacterial Spray
This spray delivers a powerful clean without harsh chemicals, making it safer for your family and the environment. Even better, it eliminates 99.9% of bacteria – meaning you can confidently give your bathroom, kitchen, and playroom and more thorough cleaning in a green way. Wi
#6 – Method Toilet Bowl Cleaner
Method Toilet Bowl Cleaner is a green product with naturally derived ingredients that quickly and effectively clean and deodorizes your toilet bowl. It has a pleasant green tea and lemongrass scent and is safe for septic tanks, eliminating the need for harsh, chemical-filled alternatives.
Not only does Method work remarkably well, but it also leaves behind a streak-free shine that keeps toilets looking their best without any extra effort from you. Perfect for busy households, this green cleaner provides peace of mind knowing that it meets all safety requirements and is planet friendly.
#6 – Dr. Bronner's Castile Soap
Dr. Bronner's Castile Soap is a green product with many purposes. This unique soap is made from natural ingredients, including organic coconut and olive oils, plus hemp seed oil for its moisturizing benefits. Furthermore, the formula contains no synthetic preservatives, dyes, or fragrances.
Because it is so incredibly versatile, Dr. Bronner's Castile Soap can be used as a body wash or shampoo, as well as to clean fruits and vegetables, do laundry and even brush teeth; each purpose requires only a small amount of product. Many people also use it to make home cleaning recipes for surfaces like countertops and floors that are safe for children and pets.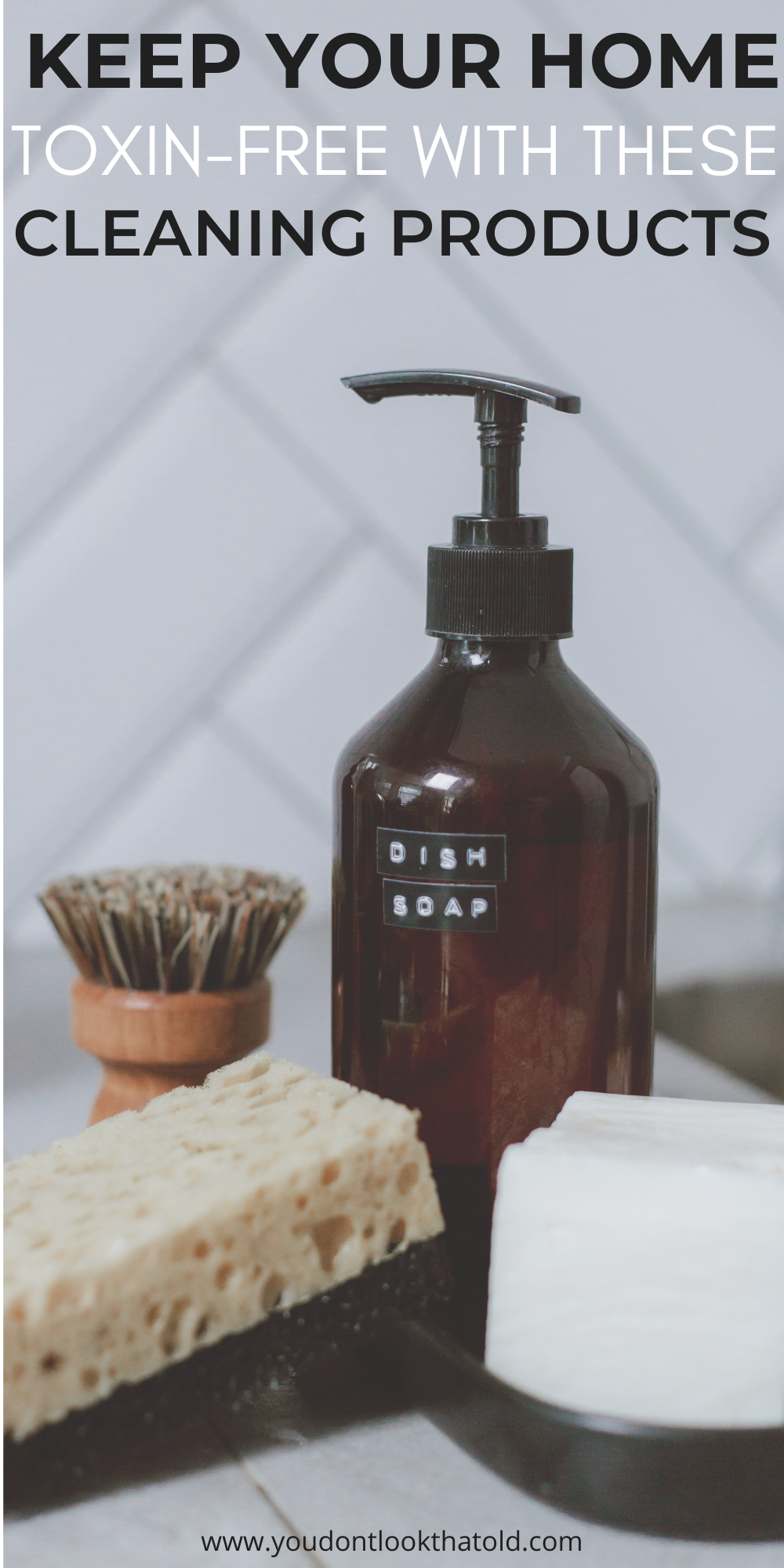 #7 – Dr. Bronner's Sal Suds Liquid Cleaner
Sal Suds is an all-purpose cleaner used to clean floors and countertops, and wash dishes and laundry. The Environmental Working Group (EWG) has given Sal Suds an industry-leading A rating. Even its plastic container is manufactured from recycled material, which delights Dr.Bronner's environment-friendly clientele.
#8 – ECOS Glass & Surface Cleaner
ECOS Glass & Surface Cleaner is an ideal green product for your home, office, and more. Not only is it biodegradable, but it's also free of ammonia and VOCs. Unlike traditional glass cleaners, ECOS won't leave streaks or residue behind – which means a cleaner, brighter surface!
It's so safe to use around the house that even children can help clean – ECOS doesn't contain any harsh chemicals. As if those green features weren't enough, ECOS also comes with a great scent – with all-natural scents like green tea and lemongrass from your favorite brand.
#9 – Shout Advanced Gel Stain Remover
Shout Advanced Gel Stain Remover is a green product that effortlessly gets the toughest stains out of clothing, furniture, carpets, and many other fabrics. This remarkable product has been professionally tested in the lab to be strong on stains but gentle on fabric, leaving no residue. It's great for removing tough stains from makeup, grass, red wine, and perspiration with just one use. And it's not only green but also safe for kids and pets!
#10 – Goo Gone Original Spray Gel
Goo Gone Original Spray Gel is a green product that helps people quickly and easily remove sticker residue, crayon marks, adhesives, and other sticky messes. You can even use it to clean up the most stubborn grease and grime without scrubbing intensely or using harsh chemicals that could be dangerous to your health. This excellent product works best when sprayed directly on the affected area before rubbing gently with a clean cloth. After just a few applications, you'll be excited to see your surfaces as good as new!
#11 – Mr. Muscle Oven & Grill Cleaner
For a natural green clean product for the oven, Mr. Muscle Oven & Grill Cleaner is the perfect choice to care for your kitchen appliances and surfaces properly. This green cleaning solution easily cuts through the toughest grease and grime in your ovens and on grills, leaving them sparkling clean.
The formulation regularly outperforms other green products when fighting grease, so you can have confidence that your kitchen will be spotless without relying on harsh chemicals. Get a handle on messes with Mr. Muscle Oven & Grill Cleaner and restore the professional look of all your kitchen appliances.
#12 – Vinegar
Vinegar has been used in food and medicine for centuries, but now it is becoming increasingly popular in creating natural cleaning products recipes. Not only can vinegar be used to clean homes and surfaces naturally, but it can also be used for various other green projects.
From cleaning jewelry to tackling laundry stains, vinegar is an affordable, easy-to-use green product that can make a real difference in the environment. Plus, since it does not contain harsh chemicals, vinegar is safe enough to use around people and pets.
Keep Your Home Free of Toxins with these 25+ Green Cleaning Products
#13 – Baking Soda
Baking soda has been around for centuries and has many uses. It is often seen as a green product due to its natural origins and low environmental impact. From treating heartburn to scrubbing stubborn kitchen surfaces, the versatility of baking soda is nearly unparalleled. You can even clean the oven with baking soda.
In the green household, it's easy to find uses for baking soda – probably the most popular ingredient to add to any natural cleaning product DIY – it can freshen up carpets and furniture or even be used in homemade laundry detergent. With so many applications, baking soda is an indispensable green product every household needs!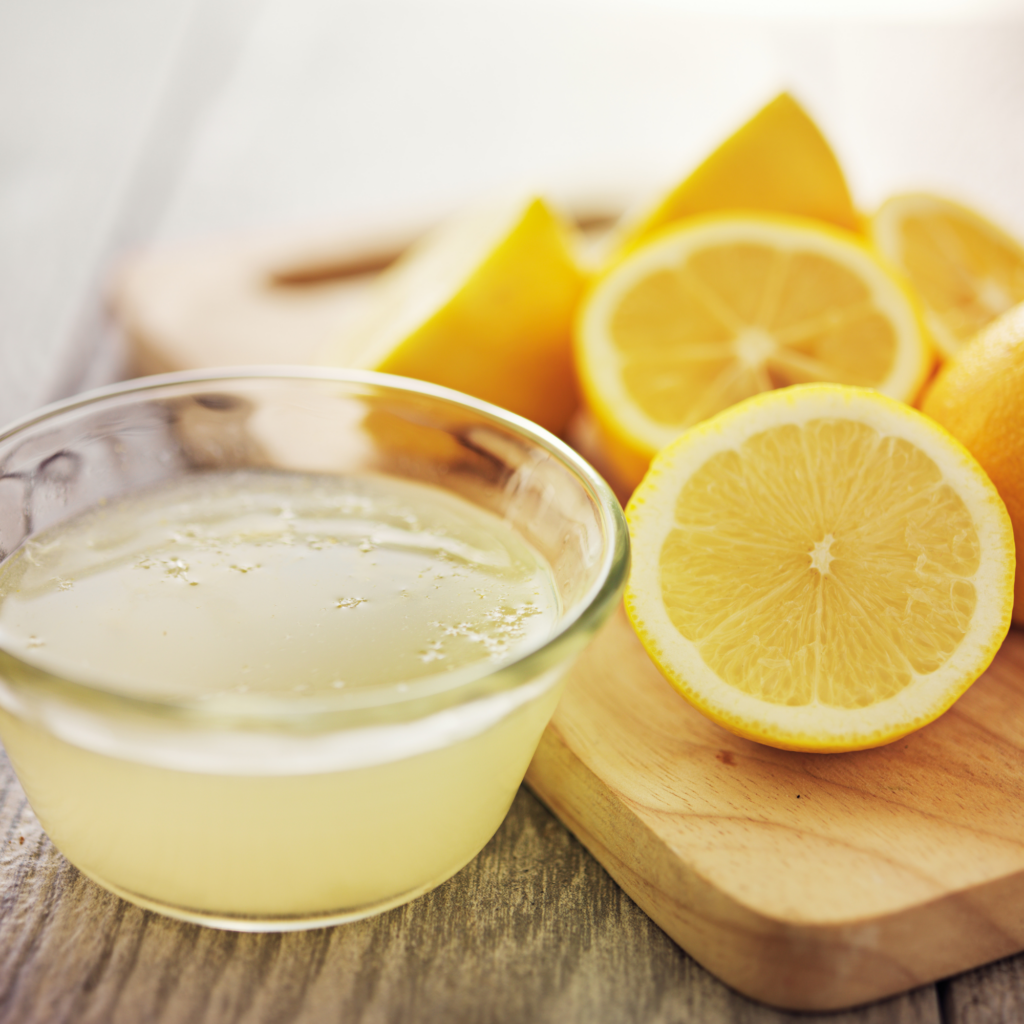 #14 – Lemon
Lemon has long been a common green product used in many households. It is an acidic fruit used for everything from flavor enhancers to natural household cleaners. Lemons are chock full of Vitamin C and have a tart flavor, making them ideal for any recipe or cleaning project.
Not only is lemon effective, but it's also incredibly affordable, making it an attractive choice when tackling green projects around the house. Whatever your green living needs, lemons will surely be part of the solution!
#15 – Hydrogen Peroxide
Hydrogen Peroxide is a green cleaning product that can be used to clean many things around the house. It's also a versatile disinfectant and deodorizer, safely destroying bacteria, mold, and mildew as it cleans surfaces.
In addition to acting as a green cleaner and deodorizer, Hydrogen Peroxide can also be accomplished with other green products like biodegradable soap or vinegar to act as an effective green all-purpose cleaner. Utilizing the power of Hydrogen Peroxide and green cleaners is a great way to help protect our environment while keeping your household clean!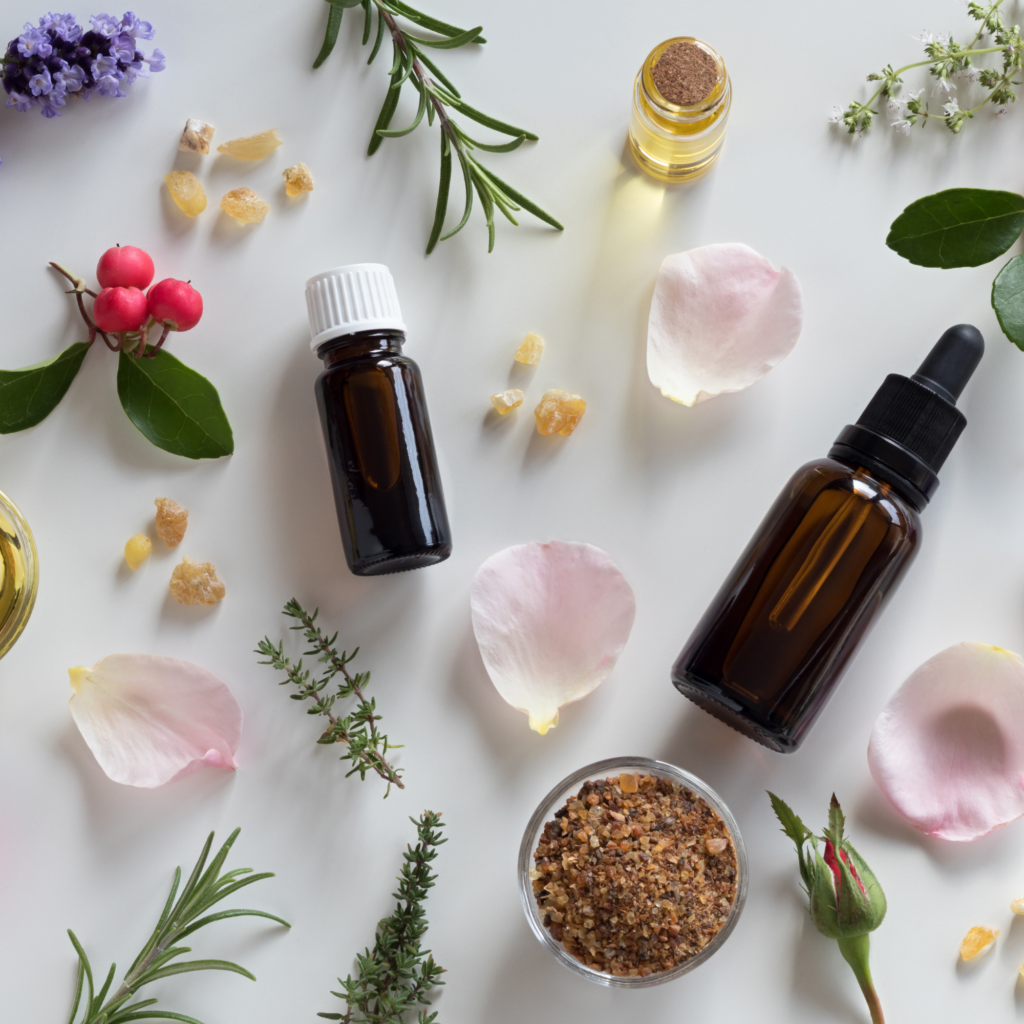 #16 – Essential Oils (tea tree, lavender, peppermint, lemon, orange)
Essential oils are natural ingredients that can be used to create green cleaning products. Various options include citrus and pine oil, lavender, clove bud, and tea tree oil. In addition to being green products, essential oils are known for their therapeutic properties and have long been used in aromatherapy to achieve peace and relaxation.
You can add them to shampoos, room sprays, and floor cleaners for a healthy scent without the harsh chemicals often in traditional household cleaners. Essential oils offer an effective way to clean your home while using green products that provide therapeutic benefits too.
#17 – Club Soda
Club soda is quickly becoming one of the green cleaning products of choice for households across the world. Fizzing and bubbling can break down tough stains and clean various surfaces without harsh chemicals.
Mix club soda with a small amount of dish soap, and you've got a simple yet effective green cleaner that is better for the environment and your family's health. It is ideal for deodorizing carpets, windows, and appliances because it does not leave a residue like other green cleaners.
#18 – Borax
Borax is becoming an increasingly popular green cleaning product. It is both cost-effective and versatile, used for various household cleaning jobs. Borax can be found in powder or crystal form, allowing you to choose the most convenient for your needs.
With its natural antifungal properties, it can be used to tackle challenging tasks like tile grout and bathroom mildew stain removal. And because Borax is non-toxic and doesn't contain chlorine, it's a great alternative to more hazardous chemicals often used in related products on the market today.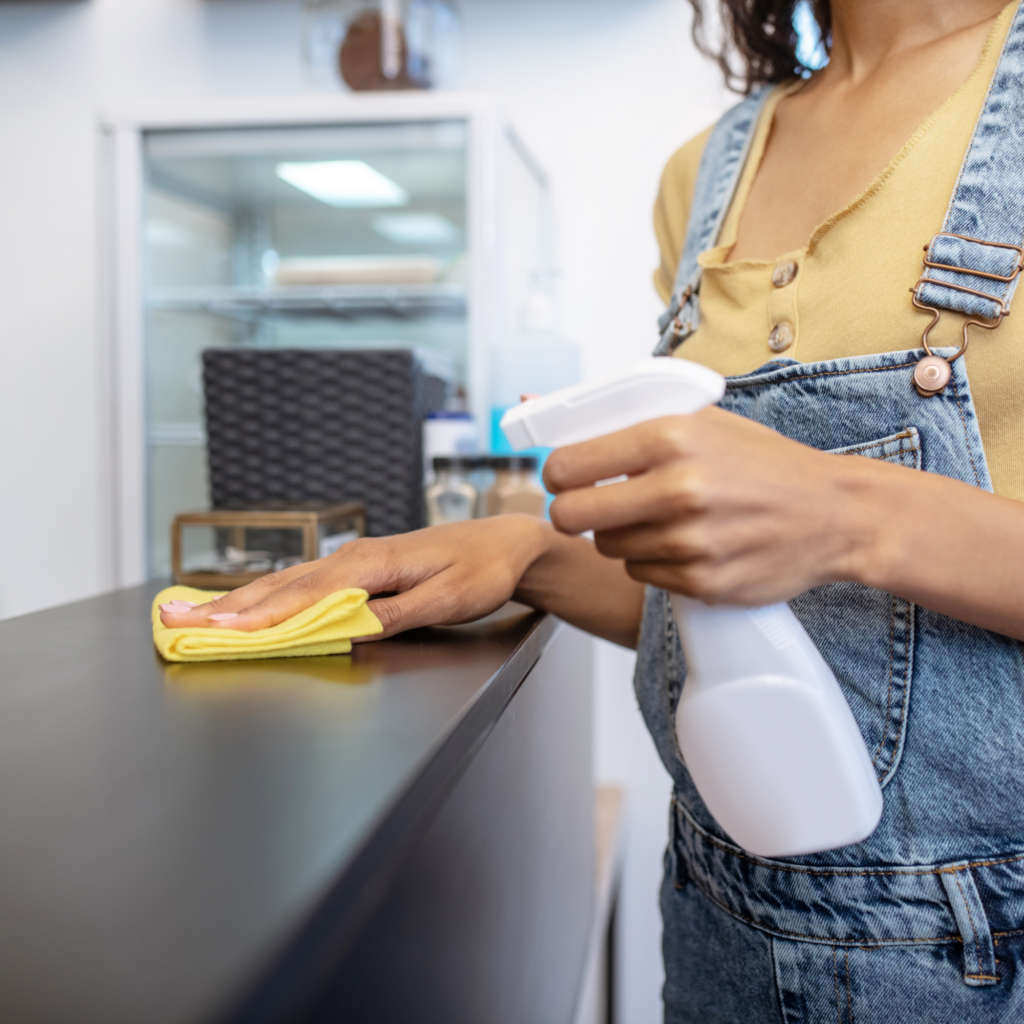 #19 – Bar Keeper's Friend
Bar Keeper's Friend is a green cleaning product that was established in 1882 with the creation of a proprietary cleanser formula. Since then, this product has become a must-have for households looking to easily clean stainless steel, brass, ceramic tile, and even fiberglass surfaces around the home.
This green product can be trusted to get stubborn grease, rust stains, soap scum, and other dirt-laden residues off kitchen and bathroom surfaces with minimal effort. Bar Keeper's Friend is your trusted green cleaning solution, whether hard-water deposits obscuring beauty in the shower or burnt salt on a favorite pan.
#20 – Seventh Generation Glass & Surface Cleaner
For those looking for green cleaning solutions that get the job done effectively, look no further than Seventh Generation Glass & Surface Cleaner. This all-natural formulation is made without fragrances, dyes, or harsh chemicals like ammonia and bleach that can harm surfaces and irritate allergies and sensitivities.
This green cleaning product tackles soils and smudges on glass, ceramics, steel, plastic, and even natural stone. Special microfiber cloths or soft cotton towels are recommended for best results – Seventh Generation wants to help maximize the effectiveness of every green cleaning product you use in your home!
#21 – Earth Friendly Products Orange Citrus All-Purpose Cleaner
Earth Friendly Products Orange Citrus All-Purpose Cleaner is a green cleaning product that offers an all-natural cleaning experience. This non-toxic and biodegradable cleaner is derived from oranges, making it safe for children and pets.
It can be used on hard surfaces indoors and outdoors, leaving everything clean and fresh with no toxic residue. And there's a bonus – the natural orange scent will make you happy and uplifted! With the Earth Friendly Products Orange Citrus All-Purpose Cleaner, keeping your home green has never been easier.
#22 – Biokleen Bac-Out Stain + Odor Remover
Biokleen Bac-Out Stain + Odor Remover is a green cleaning product designed to tackle even the toughest messes. It features live enzyme cultures that target and remove stains, odors, and build-up while freshening fabrics, carpets, upholstery, and more.
It is also made with plant-based surfactants for a powerful clean without added preservative chemicals or artificial fragrances. Furthermore, it is biodegradable and safe for people, pets, and the planet making it an environmentally friendly option for all your cleaning needs.
#23 – Ecover Multi-Surface Cleaner
Ecover's Multi-Surface Cleaner is an effective green cleaning product that works wonders on hard surfaces, including counters, sinks, stoves, and more. It is safe to use around people and pets—no harsh or toxic chemicals are used in this natural cleaner.
Its plant-based formulation effectively cuts through grease and grime without leaving any streaks or odors behind. Moreover, since the spray bottle can be recycled, there is no need to worry about its negative environmental impact. Ecover Multi-Surface Cleaner is a powerful tool for green cleaning results.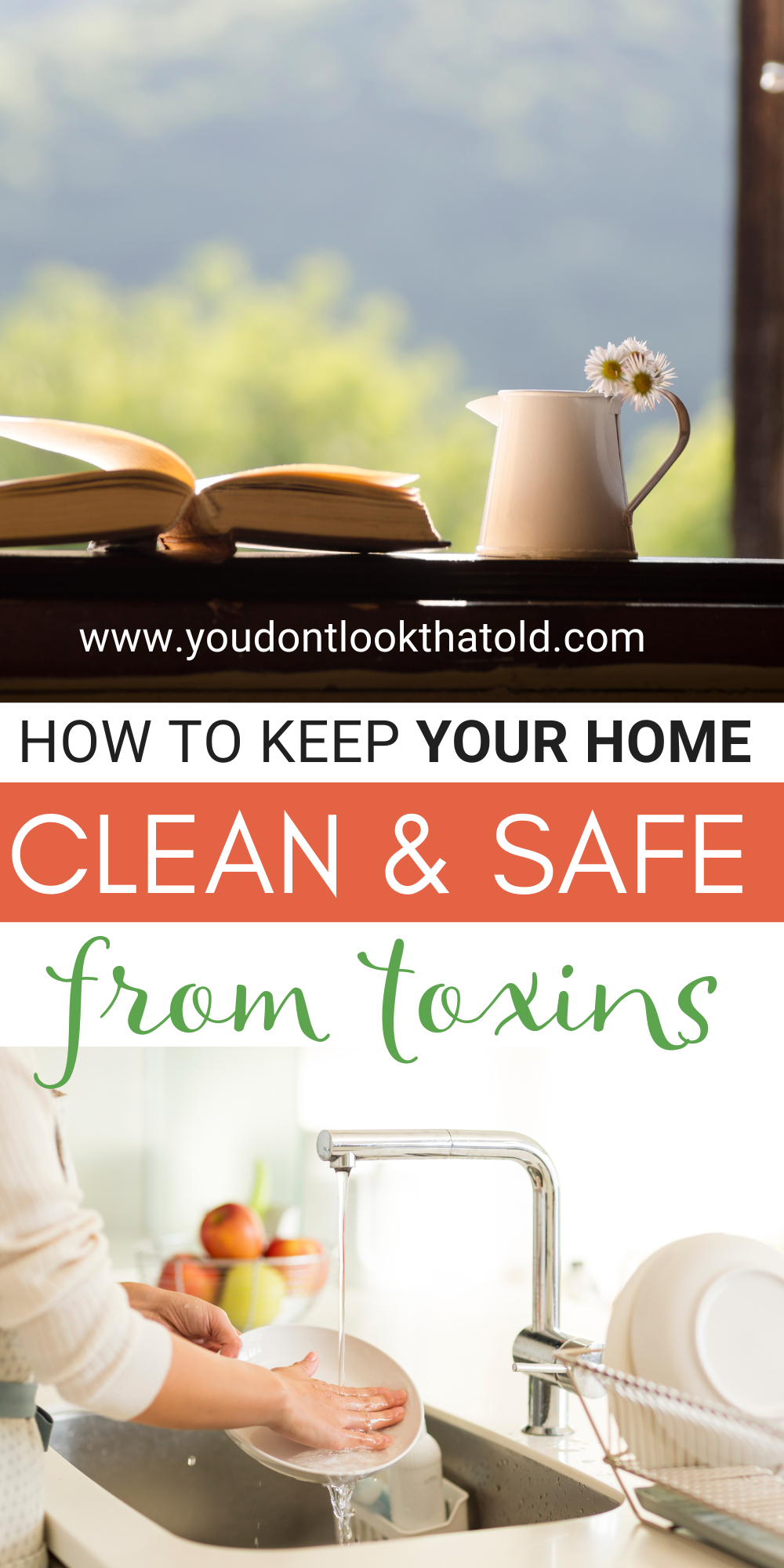 #24 – The Honest Company Multi-Surface Spray Cleaner
The Honest Company Multi-Surface Spray Cleaner is an eco-friendly cleaning solution that provides superior cleanliness and safety. It uses powerful natural ingredients like coconut and fir needle oil to cut through grease, grime, messes, and more! This green cleaning product is formulated without harsh chemical surfactants, volatile organic compounds (VOCs), and synthetic fragrances that can cause skin irritation or aggravate allergies.
Plus, it is safe for use on surfaces throughout the home- from countertops to floors to walls- providing an all-in-one solution for busy households! With its all-natural stain-fighting power and plant-powered freshness, you can have peace of mind using The Honest Company's green cleaning products in your home.
#25 – Norwex EnviroCloth
Norwex EnviroCloth is a green cleaning product designed to help you clean smarter. It uses microfiber technology and advanced features like silver antimicrobial threads that are proven to kill more than 99% of bacteria on contact. The microfibers can pick up and trap grease, dust, allergens, and other unwanted particles from your home environment that may be bothering you or your loved ones.
Whether you're trying to keep your kitchen sparkling clean or just wiping down surfaces in the bathroom for extra germs prevention, the Norwex EnviroCloth is an effective green cleaning solution for any home. With its antimicrobial properties and deep-cleaning capabilities, it's no wonder Norwex EnviroCloth is one of today's most popular green cleaning products.
#26 – J Cloth Plus Premium Microfiber Towel Set
The J Cloth Plus Premium Microfiber Towel Set is ideal for green cleaning. This set includes 5 high-quality microfiber towels made with 80% polyester and 20% polyamide for maximum absorbency and lint-free drying. The super soft texture of these towels makes them perfect for wiping up spills, dusting, and polishing surfaces without scratching.
With the advanced technology "StayClean" feature, each towel is guaranteed to last longer than other products and can be washed hundreds of times without losing its absorbency. It's time to upgrade your green cleaning effort with this essential household accessory from J Cloth Plus!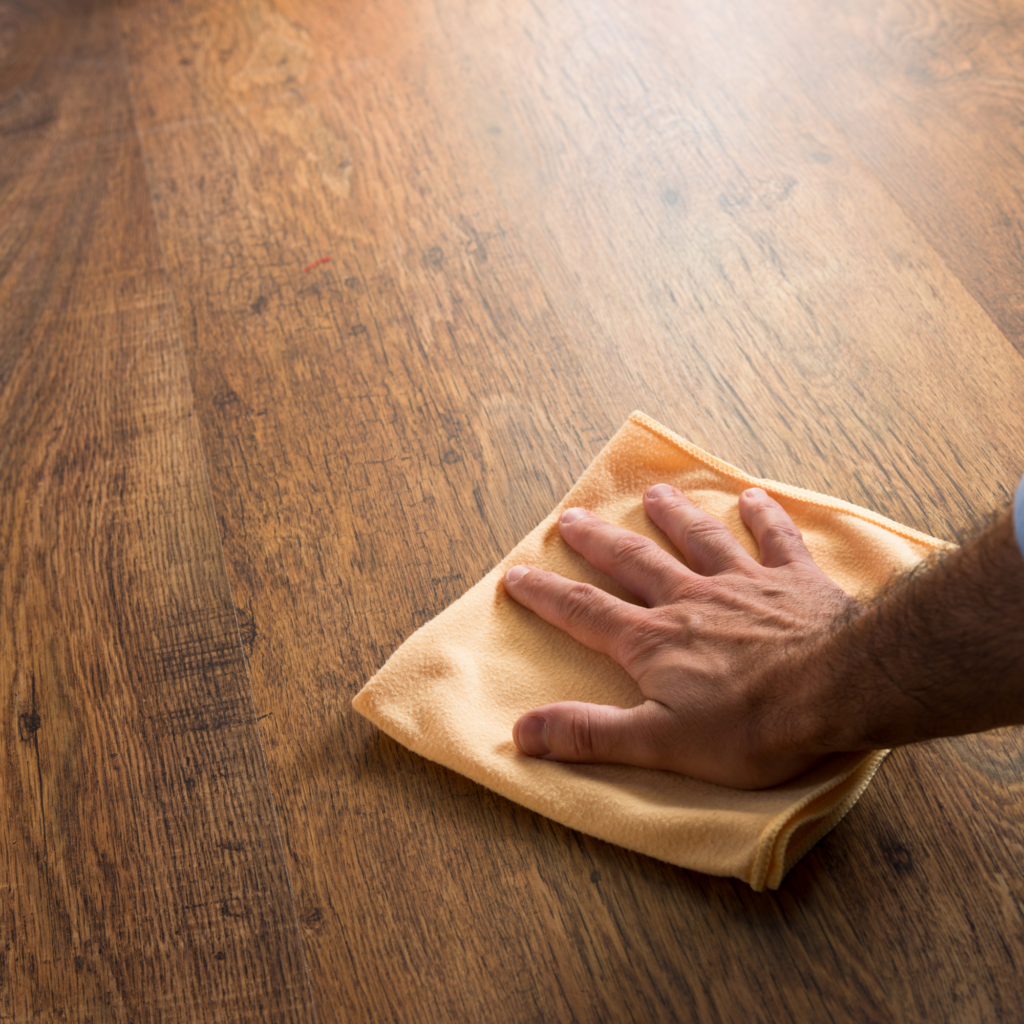 #27 – Force of Nature
As a bleach alternative, there are few better options than the recently launched product Force of Nature. You can use it to electrolyze water by conveniently and quickly mixing water, salt, and vinegar in an appliance right at home.
This is as effective as bleach, and the claim is backed by the U.S. Environmental Protection Agency's label calling it a disinfectant.
#28 – Biokleen Free and Clear Laundry Liquid
This laundry detergent is another good green cleaning product with a top-grade A rating from the EWG and complies with green manufacturing processes. It is made from grapefruit seed extracts and plant-based surfactants and can remove strong odors and stains. The company also manufactures a range of green cleaning materials for the laundry and kitchen.
#29 – Seventh Generation Dishwasher Detergent
Seventh Generation has created eco-friendly cleaning products certified by USDA as 'bio-based products for over three decades because they are manufactured from renewable resources.
Its dishwasher detergent is free of phosphates, packaged with recycled materials, and given an A-grade rating by the EWG. The dishwashing liquid is hypoallergenic and contains no dyes or fragrances.
#30 – Skoy Cloth
Another excellent green cleaning product is the line of reusable towels from Skoy Cloth that can serve as sponges, rags, dishcloths, or paper towels. These chlorine-free, non-GMO biodegradable towels are made of natural cotton and wood-based cellulose pulp.
They can absorb up to 15 times their weight in water. The towels last long and can be washed. The biodegradable material can be recycled into compost when they eventually wear out.
Where to purchase these cleaning products?
You can find natural cleaning products at big store chains, such as Target, Walmart, and Safeway, around the country. Online e-commerce websites like Amazon.com allow orders to be placed right from the comfort of your home and will have the product delivered.
It is essential to verify a product's FDA certification and review its natural, eco-friendly, or organic claims before placing an order. Many competitors stretch these definitions to the breaking point to make more sales. These cleaning products recommended above meet the stringent requirements of any discerning consumer who cares about the environment.
Believe it or not, finding products free of harmful chemicals is easy. Good luck!