I recently began my holiday recipe research. So, I have to share the amazing low carb appetizers I discovered. Of course, the holidays are a time to indulge. Yet, there are amazing low carb recipes that will add to any holiday celebration or meal for that matter.
These easy low carb appetizers will meet the needs of even the pickiest pallet and are the perfect finger foods for game day!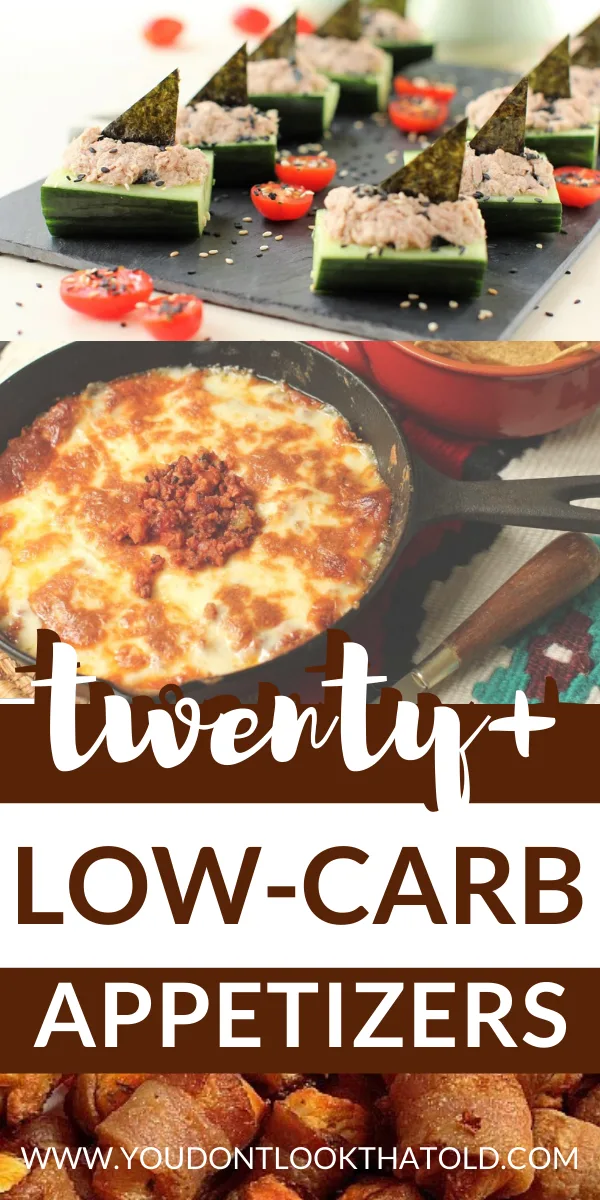 Why Low Carbs Matter
Eating a low carbohydrate diet may indeed be all the craze. Yet, there is efficacy to the scientific research backing up the low carb diet. Lowering your carb intake lowers insulin. This result causes the body to burn stored fat for energy thus leading to weight loss.
Easy Low Carb Appetizers
Okay, I am a sucker for bacon-wrapped appetizers and this low carb recipe is no exception. Wowzer. I love the salty bacon-wrapped about the zing of the pickle.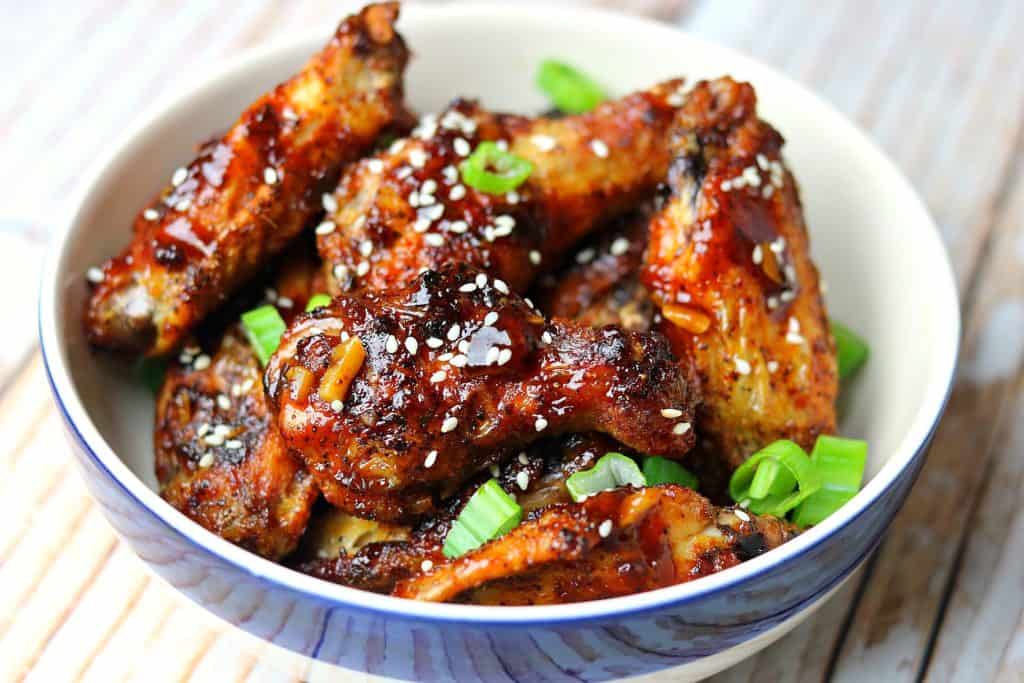 One exciting and daunting part of choosing a low carb lifestyle is to find those "favorite foods" that satisfy even with low carb alternatives. My mouth immediately began to water when I laid my eyes on these images. Then, when I read the recipe, I was sold.
You can give me deviled eggs in 50 different ways and I love them all. With that said, adding a bit of smoky chipotle to the mix was new to me. Easy to make low carb appetizer for any occasion.
This easy low carb appetizer presents nicely at a dinner party or holiday celebration. Topped with basil plus loaded with protein and cheese goodness, this appetizer delivers.
I am always in search of a cracker that will meet my sons' taste and I think I may have found it. So easy to make, these keto crackers can be served alone or with a variety of low carb dipping sauces.
There is so much to this recipe that makes me giddy. Cilantro is a controversial herb. Either you love it or hate it. Did you know that we humans are genetically predisposed to love cilantro or hate it? Cilantro is actually quite beneficial to your body as it lowers your blood sugar, boosts your immune system, and promotes a healthy heart, brain, and digestive system.
I like the combination of ingredients in this recipe. The lime and cilantro work so well together. So, even if cilantro is not your thing, give this combination a try. Not to mention shrimp with its high content of omega 3s as the main ingredient has tons of health benefits for your brain and heart.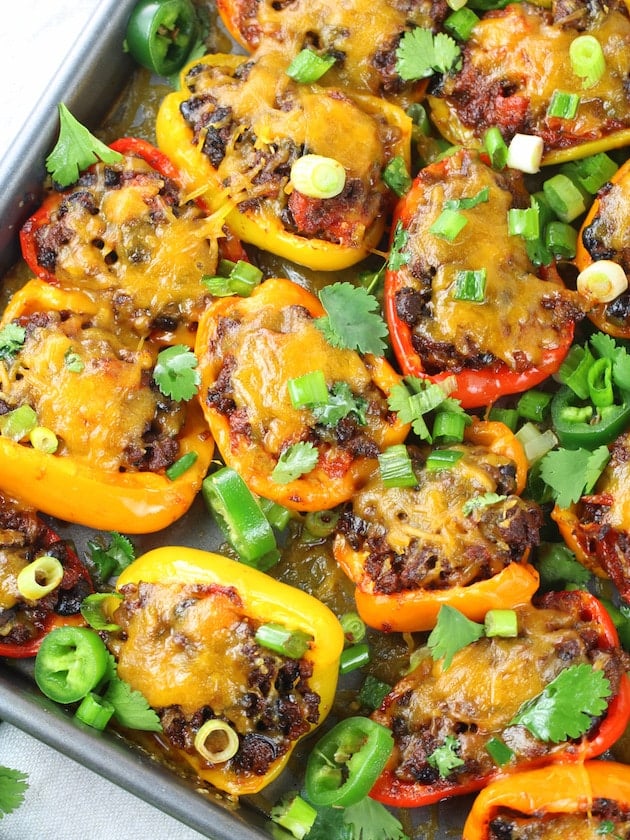 These Easy Low Carb Mini Pepper Nachos are flavorful and delicious! Made with ground beef, black beans, sweet peppers, tomatoes with green chilies and a zesty blend of Mexican spices, these nachos won't disappoint.
There is so much goodness in turmeric and cauliflower, I couldn't resist this easy roasted cauliflower recipe. Cauliflower and turmeric are both superfoods and aid in detoxing the body. I put a scoop of turmeric in my coffee each morning as an extra boost.
Cauliflower, like many cruciferous vegetables, is high in fiber and B-vitamins. Furthermore, the antioxidants found in cauliflower protect against cancer. Fiber assists in digestion and maintaining weight, while other nutrients found in cauliflower, such as choline, benefit memory and learning. The benefits of turmeric include increased brain function and mitigated inflammation. In addition, it improves skin and strengthens the immune system.
This recipe is light and colorful. The spice comes from jalapenos and Cholula hot sauce. The cucumber and tuna keep the spice at bay. The crunch of the cucumber makes this low carb appetizer to a whole new level of deliciousness.
Yes, please. This recipe is the single reason why I recently purchased an air fryer (and you should, too). The crunch of the coconut had me at hello. The recipe is simple with four ingredients. The sauce is a low carb sweet chili sauce. You're welcome.
More Easy Low Carb Appetizer Recipes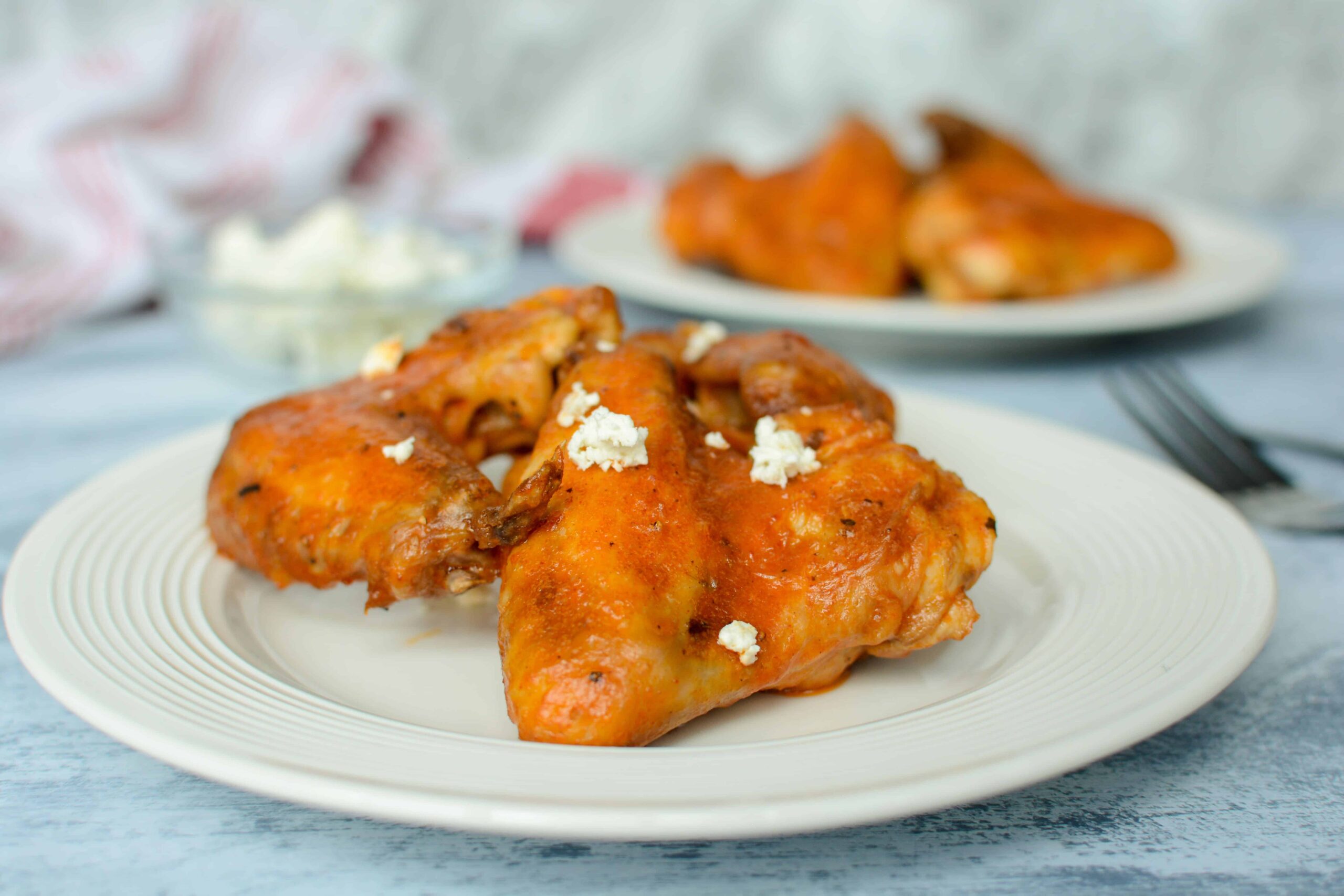 I am not a huge fan of wings per se but as I read through this author's post, my mouth watered. The author created a keto-friendly buffalo sauce and has loads to offer in the realm of low carb alternatives.
Another gem from The Endless Appetite! Mushrooms are another controversial food item but don't give up! These stuffed mushrooms use cream cheese, cheddar cheese, onion, and pepperoni. With that said, the BEST part about this low carb recipe is the variations. Customize to your family's liking and you're golden.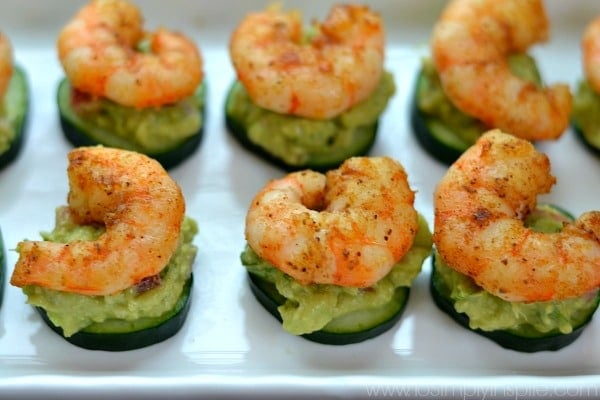 This low carb recipe pretty much combines all my favorite things. Avocado is a superfood, love the crunch of the cucumber, and shrimp is not only yummy but loaded with health benefits with its omega 3s. Plus, the author cooks her shrimp in coconut oil for an added benefit.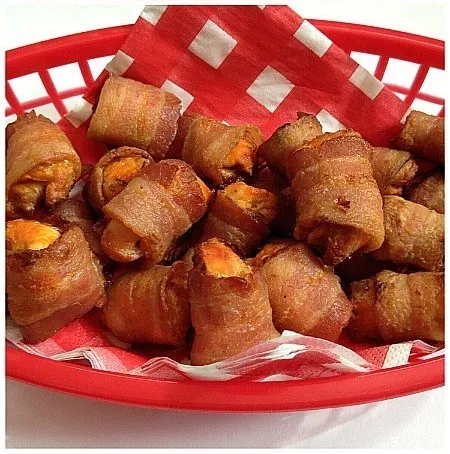 You know my obsession with anything bacon-wrapped and here we go again. Such a simple recipe to make and doesn't take a lot of time to put together.
This recipe uses white wine and sweet chili sauce, which are not at the top of my low carb list. However, there are numerous low carb chili sauce alternatives out there. So, don't give up (and just go easy on the white wine).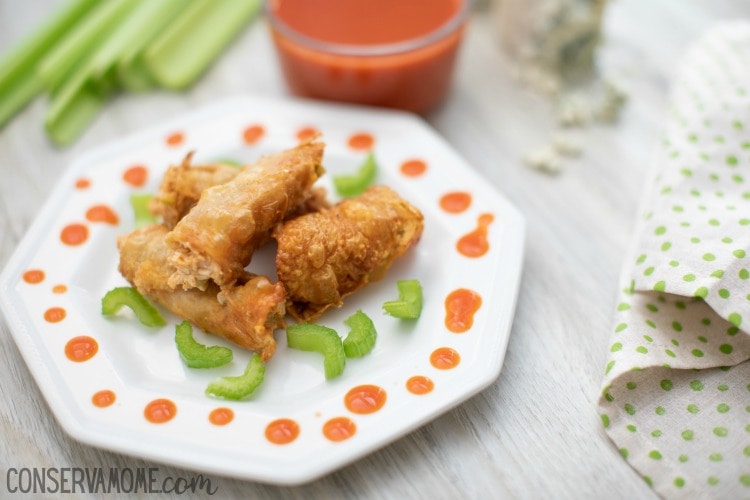 Cracklins are delicious and this low carb recipe comes with buffalo chicken. Mmm…This recipe uses chicken thighs, your choice of buffalo flavored hot sauce (but watch the sugar content), and blue cheese.
This picture obviously does not do the dish justice but I really liked the colors. Simple stuff mushrooms with ham, cheddar cheese, cream cheese, and green onion. Easy to make and takes little time to prep.
What is it about the word "poppers" in a recipe that makes my mouth water? Plus I love jalapeno and how can you go wrong with adding a cheesy mix to the dish?
Okay, beets are not EVERYONE'S favorite but give them a go, especially when they're flavored with BBQ. Beets are also incredibly good for your body. Containing fiber, folate, and Vitamin C, beets are also known for lowering blood pressure. Try this healthy low carb appetizer with the author's homemade BBQ sauce.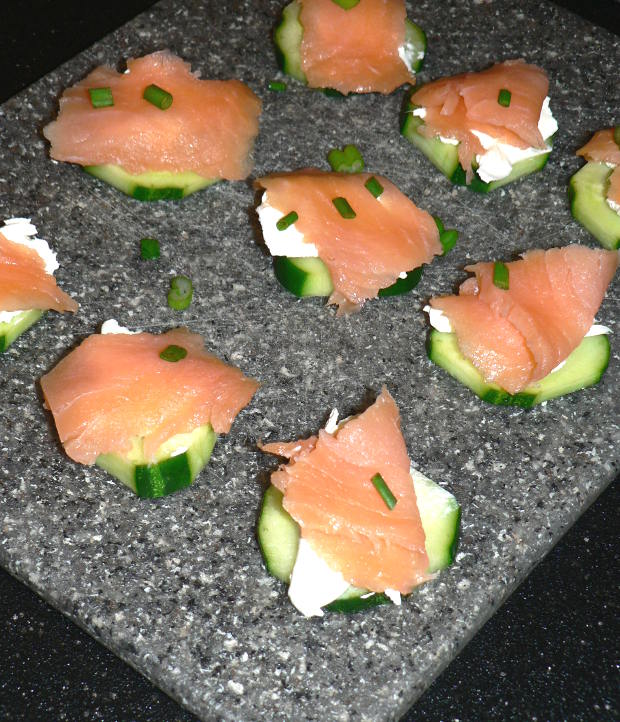 I fell in love with salmon when we lived in Seattle. Not only was it an amazing taste, but the health benefits are remarkable. We're talking Omega-3 Fatty acids, protein, b-vitamins, potassium, selenium, and much more. Plus, I love smoky foods and the crunch of the cucumber makes this low carb appetizer perfect.
I love the simplicity of these steak bites. Made with tender rib eye, cubed, and a bit of salt & pepper, these steak bites are a perfect & easy low carb appetizer.
There are so many amazing low carb dips and this one is so good! Add a low carb cracker or chip, or vegetables to this appetizer to serve.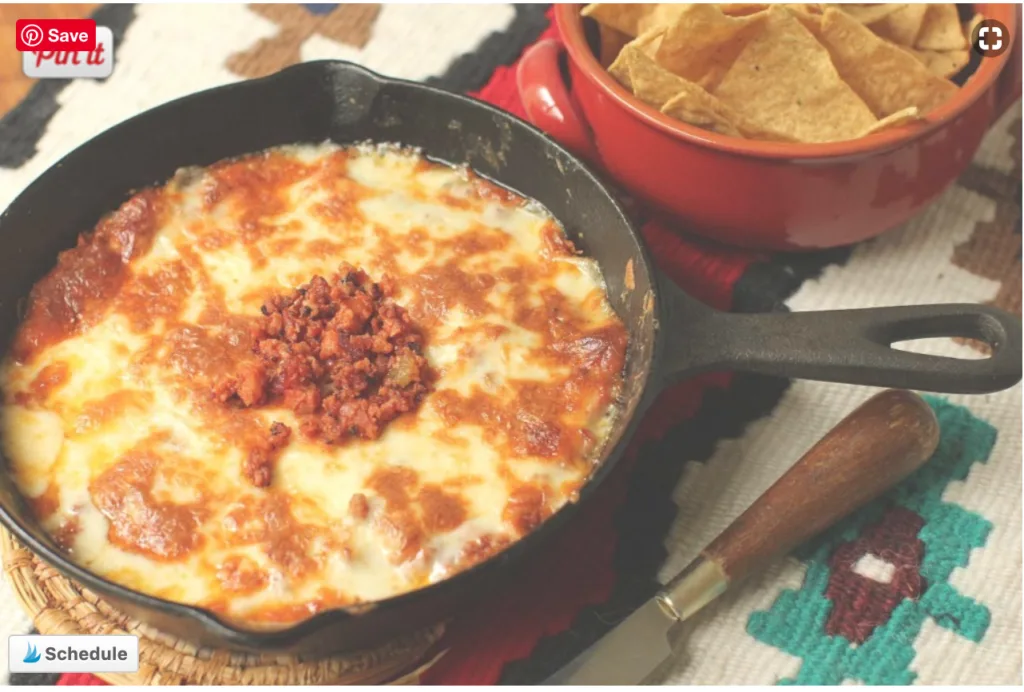 Cheese and sausage? I am in. This easy to bake low carb dip is no brainer. Find a low carb dipping vessel such as keto crackers or vegetables and you're good to go.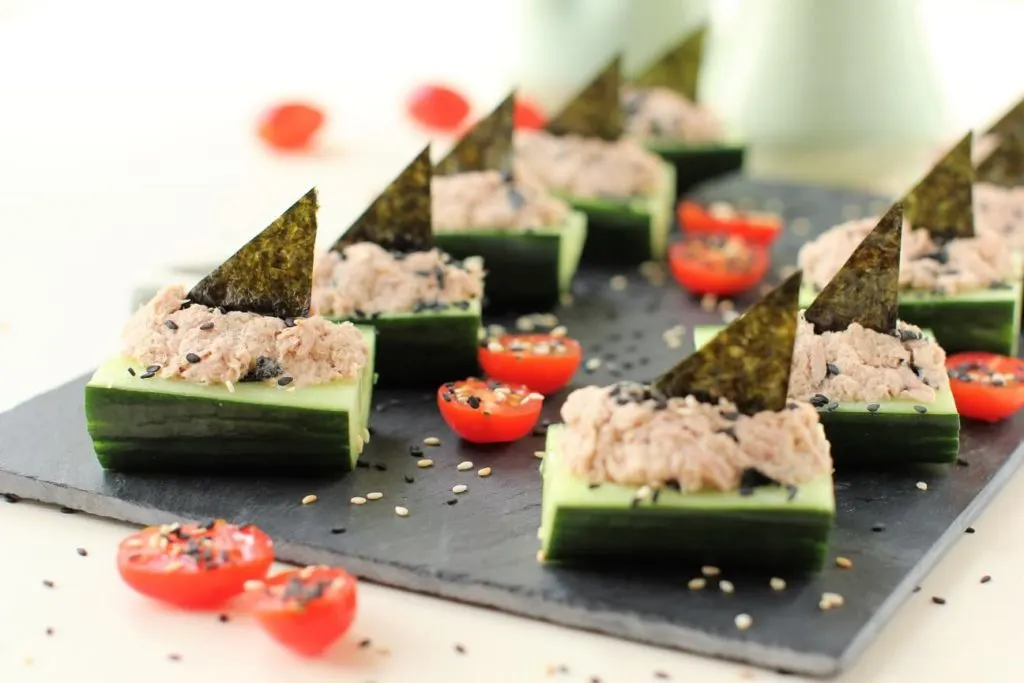 These low carb appetizers are adorable and so festive. As you know, I love cucumbers and these tuna boats are not only packed with a huge amount of nutrients but they're super easy to make.
This low carb appetizer dip is easy to make and yummy. You can bake it in your oven or a slow cooker. The ingredients are straight forward yet can be customized to your taste!
Like this List? Pin for Later.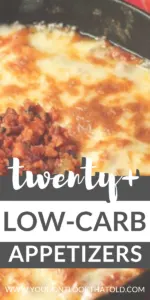 More Resources for Low Carb Appetizer Recipes